Order Orectolobiformes:
Carpet Sharks — 39 species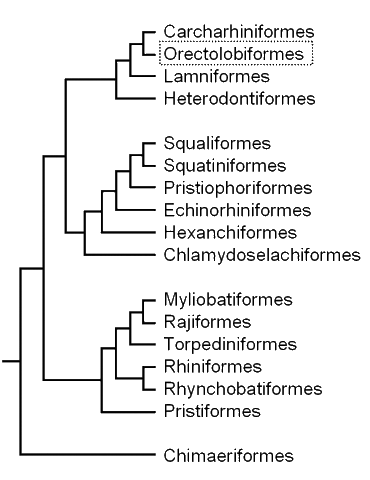 two, spineless dorsal fins
a very short, transverse mouth that is well anterior to the eyes
specialized nostrils, with prominent barbels and nasoral grooves connecting the nostrils to the mouth corners in most forms (wobbegongs, of the family Orectolobidae, have — in addition — complex dermal flaps around the margin of the head, which serve to obscure their outline while lying on the bottom)
spiracles small to very large, located below the eye (except the whale shark in which they are located behind the eye)
most with small gill slits, with the fourth overlapping the fifth (again, except for the whale shark, which has large, non-overlapping gill slits) and behind origin of the pectoral fin
most species have a caudal fin with an upper lobe that is more-or-less in line with the main body axis (not tilted upward, as in most other sharks) and a poorly-developed lower lobe (except in the whale shark — the only fully pelagic orectoloboid — which has a large, well-developed lower caudal lobe); the order's scientific name translates roughly to "stretched-out lobe", in reference to the tail type characteristic of the group
reproduction variable, either oviparous or ovoviviparous (depending on species)
exclusively marine, most inhabiting shallow to moderately deep warm temperate to tropical zones of Atlantic, Pacific, and Indian oceans; the group is most richly represented in the tropical Indo-West Pacific region
13 genera in 8 families
| | |
| --- | --- |
| | |
The orectolobiform sharks are a tremendously diverse group, making it difficult to do justice to their extraordinary variety.
In terms of size, the orectoloboids range from the small Barbelthroat Carpetshark (Cirrhoscyllium expolitum) — which is known from a single, mature specimen about a foot (30 centimetres) in length — to the enormous filter-feeding Whale Shark (Rhincodon typus) — the largest living fish, which grows to a length of at least 45 feet (14 metres). This group also includes the Nurse Shark (Ginglymostoma cirratum), which grows to a respectable length of 9 feet (2.8 metres) and is familiar to many sport divers and aquarium visitors.
The orectoloboids are also wonderfully varied in terms of form, lifestyle, color and pigmentation pattern. They range from the other-worldly Tasseled Wobbegong (Eucrossorhinus dasypogon) — which is an elaborately camouflaged ambush predator — to the elegant Zebra Shark (Stegostoma varium) — which has a tail longer than its body and exchanges its zebra-stripes for leopard-spots as it matures — and the delicately slender Epaulette Shark (Hemiscyllium ocellatum) — which actively hunts inside the cramped and convoluted passageways within coral reefs. The colllard carptsharks (family Parascylliidae), which may be found over muddy, sandy, or rocky bottoms can change color to match the seafloor type.
Many carpet sharks are beautifully patterned with spots, saddles, ocelli, or mottled markings, hence the group's common name. These patterns are important as camouflage, as many orectoloboids are nocturnal, spending the daylight hours lying motionless and undetected on the bottom. In Australia, wobbegongs have a particularly nasty reputation because, when stepped on by a careless wader, some of these cryptic, dagger-toothed sharks had the audacity to react defensively. Many bottom-dwelling forms — such as the wobbegongs (family Orectolobidae), collared carpetsharks (Parascylliidae), and the bamboosharks (Hemiscylliidae) — have rounded, highly mobile pectoral and pelvic fins, which they use to clamber over the bottom like elongated salamanders with ping-pong paddles for legs. In recent experiments by P.A. Pridmore, the bottom-walking behavior of the Epaulette Shark served as the model for the limb coordination that eventually enabled a tetrapod pioneer (probably an amphibian or proto-amphibian) to invade the terrestrial environment.
Reproduction in carpet sharks is variable. Some orectoloboids (such as the Epaulette and Zebra Sharks) are oviparous, while others (such as the Nurse Shark and wobbegongs) are ovoviviparous. Until very recently, it was widely assumed that the Whale Shark was oviparous, based on a single shoebox-sized egg case containing a 14.5-inch (37-centimetre) embryo, collected from the northern Gulf of Mexico in July 1955. But this egg case was thin-shelled and lacked anchoring tendrils, unlike the eggs of most oviparous sharks. In July 1995, a 35-foot (10.6-metre) long pregnant whale shark harpooned off eastern Taiwan was found to contain 301, 2-foot (60-centimetre) embryos — by far the largest litter recorded from any shark — proving, once and for all, that this species is ovoviviparous.
In 1986, Guido Dingerkus revised the orectoloboids, recognizing only five families, but his scheme — although it raises many points worthy of consideration — has not been widely accepted and is not adopted here. I prefer to follow Compagno (1988) in regarding the collared carpet sharks (Parascylliidae) as the primitive sister taxon for the group, rather than the epaulette sharks (Hemiscylliidae) as proposed by Dingerkus. One recommendation Dingerkus made in his 1986 paper that I have adopted is placing the Short-tailed Nurse Shark in its own genus (Pseudoginglymostoma), distinct from that of the nurse shark (Ginglymostoma).